What are Sniper cats?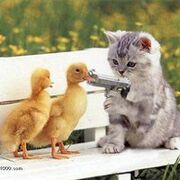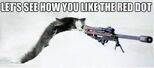 Sniper cats are incredible animals with amazing abilities including super fast speed (where you can't see them), complete genius, and a love for fish.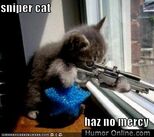 Facts about Sniper cats

Sniper cats will love you if you care about them and carry around fish
They are normally Tabbies, but they can be any type of cat
If you have a sniper cat tell here
BlobFish2575 has 3 sniper cats, One stealthy girl cat, one foolish but lovable boy cat, and one old wise boy cat!!!
Trogdor Burninator and Humuhumunukunuku have 1 sniper cat who loves having conversations and hunting (one time he jumped up almost 6 feet!) =^●⋏●^=
Popy4701 has two sniper cats.
Examples of Sniper cats